Minneapolis, MN (Jan. 16) -
The NBA's Minnesota Timberwolves have called a press conference for 3:00 this afternoon, and it's expected that it's to announce that they are still, indeed, in the league.
"Indications are, from good sources, that the Timberwolves plan to announce that they still exist," said NBA observer and analyst Tim Legler this morning.
The Timberwolves are rumored to be 5-32 this season, though their existence has been questioned.
"Has anyone actually SEEN the Timberwolves play this season?" asked TNT analyst Mike Fratello. "I know I haven't, and I don't know anyone who has. Frankly, I'm eager to see the press conference, because I find that 5-32 record to be highly questionable. No team can be that bad in today's watered down NBA.
"If they exist, as they purport, then they have some explaining to do," Fratello added.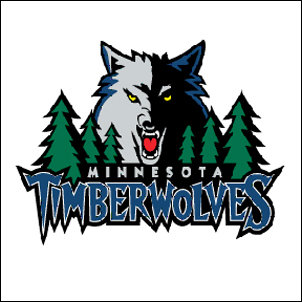 The last known Timberwolves logo
The Timberwolves, according to hardcore NBA fans who swear it's true, are supposedly led in scoring by someone named Al Jefferson, who allegedly has a 20.2 PPG average. But again, those who claim to have seen Jefferson perform this season in an NBA game are difficult to track down.
"The last I heard of the T-Wolves was back in spring 2007, just before they traded Kevin Garnett," says an NBA executive who spoke under the condition of anonymity. "Show me some hard evidence of their having been in the league since then, and I'll look at it. But until then, I simply don't believe it. I'm sorry."
At the press conference, sources say, the alleged team's owners are expected to support their claims by showing game tapes from actual contests played this season. But already the source of those tapes are coming into question.
"I heard that one of the tapes has the players' names blurred out, like in an episode of 'COPS,' and that one of the Lakers players in the footage looks like Elden Campbell," a source said. Campbell played for the Lakers in the late-1990s. "So I have my doubts overt the authenticity of this supposed footage."
A woman who answered the phone yesterday at the last known number for the Timberwolves said everyone had "stepped out for a moment", but that she would take a message. When pressed as to whether the team actually existed, the woman said she didn't speak English, and hung up.